Customer Research Services
Get a grip on your customers' needs and satisfaction levels from the customer data collected through our customer research analysis.
transcosmos delivers solutions for our clients' marketing challenges through various methods of data collection such as web, phone, direct mail, central location intercept, and desk research regardless of quantitative research (multivariate methods: surveys, etc.) or qualitative research (interview, behavior observation, etc.).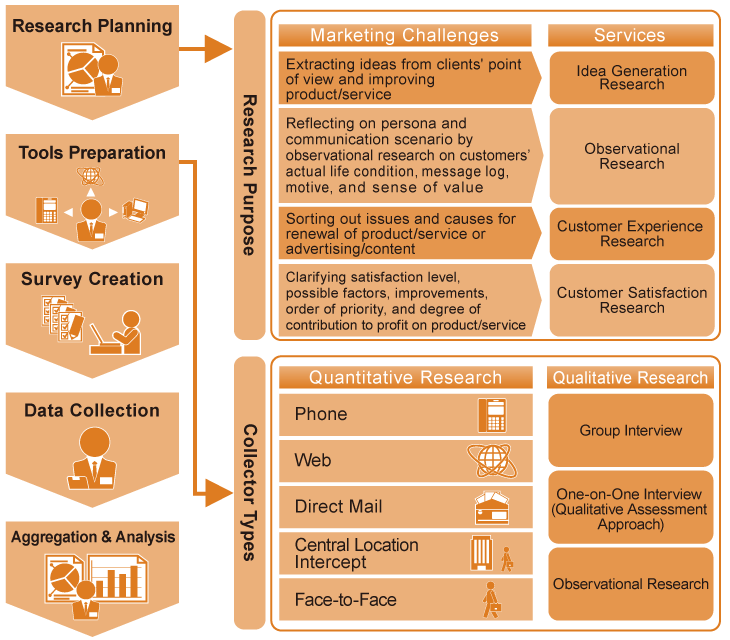 Idea Generation Research
Embody ideas for service/product, extracted from screened past research results or workshops, by conducting surveys or group interviews.
Observational Research
Discover customers' real intentions and unconscious needs in their living conditions through conducting personal interviews and discussions by meeting with participants, matched by a research theme, according to interview procedures for behavior observation (Ethnography).
Customer Experience Research
Extract improvement points of product/service to meet user needs and improve usability, from experienced users' evaluations such as usage and attitude (U&A), dissatisfaction factor, and improvement request.
Customer Satisfaction Research
Clarify a correlation between improvement priorities and revenue by regression analysis based on Customer Satisfaction (CS) of product/service and its factors. As well as investigate Customer Delight (CD) and Recommendation intention exceeding their expectations.
Customer Research
|
|
|
|