Support clients' marketing strategies by leveraging cutting-edge ads technology
Internet Promotion Services
With our cutting-edge solutions that leverage the latest ad technology and our 6 ads operational bases in Japan, transcosmos offers global support for businesses' marketing activities that have become ever more complex, with a myriad of different devices and media in addition to evolving ads technology.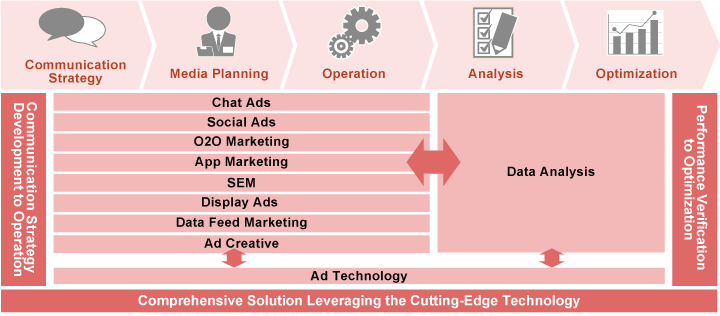 Social Ads
End-to-end support for social promotions ranging from planning to analysis
With optimum promotional methods that make the most of social networks that include Facebook, Instagram, Twitter and LINE, transcosmos solves challenges that clients' face. Our team of experts in social media and ad operations help clients succeed in their social promotions by using data obtained from analysis.
Boost ad performance by using a variety of ad tools that include ad operations tools offered by "Sprinklr," an integrated social management platform, and "Fortuna," an ad delivery DMP by the certified LINE partner Supership.
Search Engine Marketing
Develop strategic planning and operations for search engine (SEM and SEO)
SEM (listing ads) & SEO (Search Engine Optimization) specialists develop and execute strategies by making the most of cutting-edge ad technologies on major media such as Google, Yahoo!, and Amazon.
Apps Marketing
One-stop support for customer acquisition, data analysis and monetization via apps
Propose the best solutions for challenges clients face such as increasing installs and expanding sales. transcosmos helps clients maximize their profits by offering integrated apps marketing support that includes ad planning and operations, and user analysis with the use of DMP.
Data Analysis
Perform quantitative and qualitative analysis on challenges that website, apps, and social face
By analyzing data, transcosmos solves marketing-related challenges that businesses face. Our dedicated team that has expertise in Google Analytics and other analytic tools sets KPIs, supports implementation and develops analysis report. The team helps clients smoothly operate their marketing PDCA cycle.
Display Ads
Support clients' media strategy across devices
Focusing on video ads, DSP and infeed ads, transcosmos develops customer touchpoint-oriented media strategies across all devices. We optimize ad delivery and targeting by programmatic media buying, and boost ad performance.
Data Feed Marketing
Maximize ad performance with the power of cutting-edge technology
Maximize ad performance by conducting personalized marketing for each individual customer based on customer and product data automatically. Primarily focusing on Google Shopping Ads and Facebook dynamic ads that work in sync with product and inventory information, the service helps clients solve the challenges they face.
Creative Methods
Create and improve creative content logically
transcosmos's experts with an extensive record in creating content for diverse industries develop creative content. By developing and verifying creative content based on statistics and psychology, our proprietary method helps clients improve their ad performances rapidly.
Develops appealing ads based on users' voices posted on SNS

Improves ad performance at high-speed with its proprietary reports

Calculates the right number of ads and implements high-speed PDCA cycle

Diagnoses and improves LP based on its unique assessment criteria

Ad creative method optimized for media characteristics

Ensures high-speed PDCA cyc le using statistics
Internet Advertisement (Internet Promotion)
|
|
|
|
|
|