Deliver the best channel and experience to clients through operating a PDCA cycle at one stop
Digital Integration Services
With the largest service framework in Japan, transcosmos offers a total solution for clients to solve business challenges they face.
Leveraging our know-how acquired through serving over 600 clients annually, transcosmos delivers effective and competitive digital marketing services.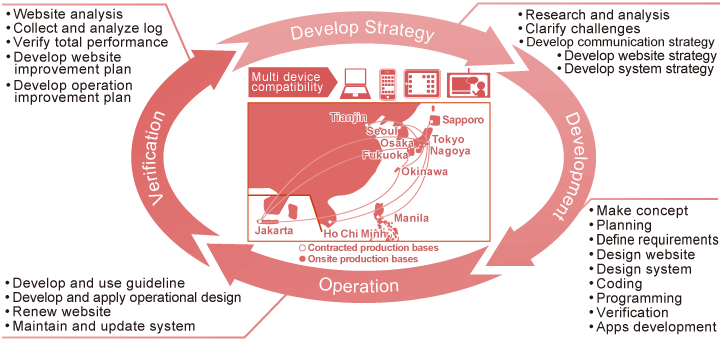 Website Development Services
Support developing website and systems to maximize performance
Plan, design and create page flow and content optimum for clients' business requirements, leveraging our diverse know-how and the extensive proven record of developing websites for over 600 companies every year
Develop websites that are compatible with variety of devices with different screen sizes while balancing usability and operational efficiency
Website Operations and Improvement Services
Deliver highly cost-effective operations and visualize challenges
Build the best operational scheme for each client by combining onsite, nearshore, offshore and outsourcing to streamline operations whilst reducing costs

Operations consulting
Center operations

Conduct research and analysis in order to improve user experience. Our experts in building and operating websites carry out analysis from client's perspective.

Research and analyze client's current operations
Develop customer journey map
Heuristic analysis
Competitor research and analysis
Log analysis
Marketing Solutions Implementation Services
Solve clients' business challenges, regardless of industry or scale
Select and propose the best solution for each client's specific challenges from a variety of service offerings that include MX, CXM, and CRM. Our experienced staff help clients implement solutions.

Implement marketing solutions
Provide design and support services to implement "Salesforce Marketing Cloud," "KARTE" and "Adobe Marketing Cloud" that enable marketing automation and cross-channel campaign management.
System Development and Infrastructure Maintenance Services
Propose, implement, build and operate the best CRM that fits to each client's business scale, needs and operations processes.
System platform services

Implement & migrate CMS platform
Security vulnerability diagnosis
Business process readiness assessment for Salesforce

|
Website Development (Digital Integration)
|
|
|
|
|