Deliver one-stop support for end-to-end process ranging from planning to follow-up after sales

Building Infrastructure Services
transcosmos offers extensive, end-to-end outsourcing services ranging from sales to follow-up after sales for clients in the housing, facility, construction, and electric power industries.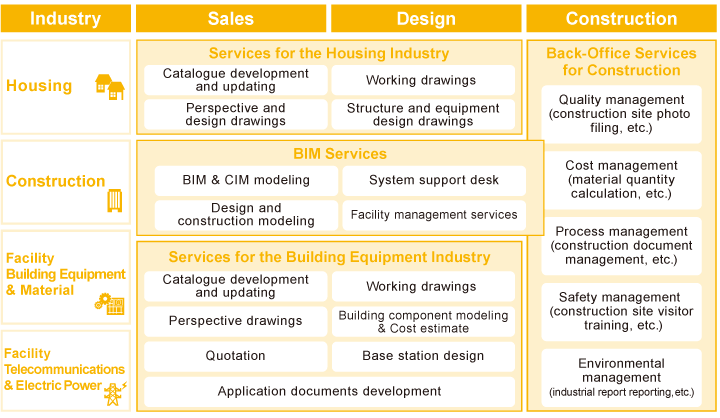 Services for Housing Industry
Offer platform which supports high performance-homes
Comprehensive support ranging from basic design, to detailed design, to production design
Provide services to assist developing catalogue, perspective and quotation and thereby let clients focus on responding to owner enquiries.
Develop system infrastructure including business systems and building component DB
For builders, deliver platform services that specialize in calculating energy savings, developing various housing performance applications and creating structural designs
BIM Services
Going beyond BIM modeling to BIM-based construction management field
Offer extensive services to maximize the power of BIM. The services include deciding scope of BIM usage, defining processes and operations.
Comprehensive support from leveraging platform, to designing, to construction and facility management.
Provide support services for BIM implementation, training and operations. The services include tool training sessions and software support desk.
Create BIM objects for manufacturers of building products.
Services for Building Equipment Industry
Support extensive processes in the building equipment industry
Develop proposal and estimation for products and respond to inquiries from wholesalers
Comprehensive support ranging from basic design, detailed design to production design
Convert product design data to 3D production data
Offer designing and construction back-office services for FTTH, wireless networks, electricity and pipeline facilities
Back-Office Services for Construction
IT+BPO services offer extensive support ranging from design to construction
Transform and streamline construction business processes.
A mix of various tablet solutions and construction back-office services support clients' operations at the construction sites
Provide end-to-end documentation and data management services that are required to manage quality, costs, process, safety and environment of a construction project.
Support services to calculate material quantity, static pressure, etc.
|
|
BIM Services Construction Support Housing & Housing Equipment Design
|
|
|