Provide effective IT infrastructure operations services to achieve digital transformation

IT Outsourcing Services
Leveraging our know-how built upon our extensive service record, transcosmos offers comprehensive support from the best service base for each client to help them strengthen their competitiveness by utilizing IT.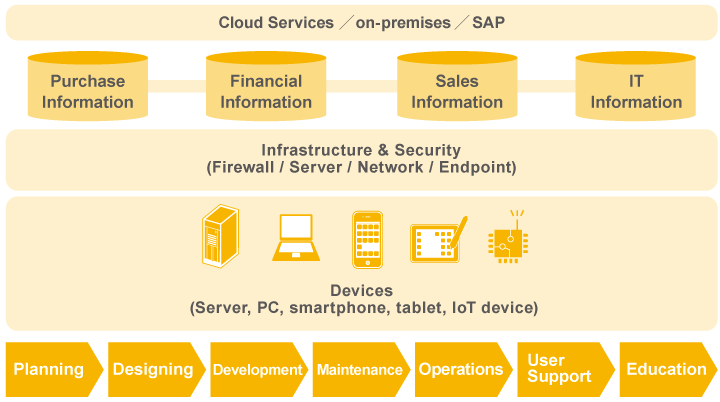 Desktop One-Stop Support Services
Provide end-to-end support services for PC-related operations
Subscription-based services for all required features related to PC (assets, applications, endpoint security).
Deliver one-stop support services from implementation and deployment, to operations and management. Designed to simplify complex business processes in clients' IT department.
Support Desk Services
Provide the optimum support desk services that fit clients' business
Provide wide-ranging support from implementation planning and training for business operation system and ERP to helpdesk services
Propose effective solutions based on our business expertise, fully understanding the context of the inquiries coming from agents and dealerships
Provide the optimum support for each industry and business from the user's perspective
Provide multi-language, 24/7 service by combining onsite and centers
MDLM* Services
Offer ever increasing devices effectively and securely
One-stop services ranging from procurement, to kitting, to operations management for multiple devices including PC, tablet, smartphone, and more
Manage assets, configuration information, and critical information to ensure security, along with device information
Support time-consuming operations such as developing master image, verification after OS and application updates, etc.
SAP Operations Services
Provide comprehensive support services including user training and operations support after SAP implementation
Deliver one-stop support services that fit clients' distinctive business characteristics. The services include user training and support desk services after SAP system implementation.
Conduct user-centric training sessions that result in drastic reduction in user enquiries after system cutover.
System Operation and Maintenance Services
Improve business efficiency by providing support from user's perspective with fully understanding the business
Detect early signs of defects and failures by daily monitoring and data analysis
The services include monitoring, performing primary isolation when failure is detected, troubleshooting and onsite support, under various environments such us cloud and on-premises
Prevent operational errors and improve operational efficiency by standardizing monitoring process and implementing automation tools
Provide 24/7 services by combining onsite and centers
Security Services
Help clients protect their valuable assets from cyber attacks
Based on vulnerability diagnosis, assessment, and analysis, propose countermeasures according to clients' needs
Detect alerts at an early phase via real time monitoring, and solve issues immediately
Offer training to prevent ever diversifying targeted attack email
Offer an early alert report on unprecedented cyber attacks
Help clients set up endpoint security measures to prevent information leakage from information terminals.
|
|
|
|
Support Desk, System Operation & Maintenance, IoT, and Multi-device lifecycle
|