Comprehensive operations support services for Selling & Distribution departments

Business Process Services
transcosmos helps clients shift their resources from indirect operations to direct operations through optimizing processes and costs of various indirect operations including those in critical functions.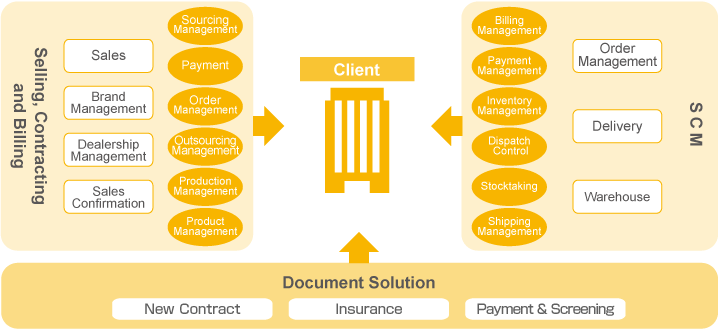 BPO Services for Selling, Contracting and Billing
Provide extensive services to support indirect and other selling related tasks
Outsourcing services for selling, contracting and billing Provide comprehensive services to assist complicated procedures that include accepting, processing, managing, renewing and terminating contracts, billing and collection.
Support services for stores & dealers Provide support for all kinds of selling activities. The services include responding to enquiries from stores and dealers about store operations and products, and receiving and managing repair orders.
Support services for managing repair orders Offer diverse services such as responding to customer enquiries about products, arranging dates and time for repair, renewing maintenance agreement and more.
BPO Services for Supply Chain Management
Provide comprehensive support services for all SCM-related operations
Integrated outsourcing services for end-to-end order fulfillment processes Provide extensive support services with a focus on order management operations. The services include arranging inventory level, receiving payments, managing delivery, billing, and collecting payments. Our platform-based services optimize operational costs by applying a volume-based pricing model that allows for pricing adjustment based on the quantities ordered. transcosmos helps clients realize accurate payment management from invoicing, to collection to reconciliation.
Outsourcing services for logistics management & trade administration Provide extensive support services from receiving requests for transportation, to delivery, to shipping and storage, to responding to customer enquiries to operations management. With an understanding on the whole logistics and trading processes, transcosmos optimizes procedures for preparing and submitting all necessary documents for invoice, a bill of landing and more.
BPO Services for the Finance & Insurance Industry
Business optimization services for the finance and insurance industry
transcosmos's proprietary operations support system and specialized teams handle end-to-end processes from receiving application (including assessment and completeness check) to contract termination in a short period of time.
Provide complete operational services for signing new contracts, maintaining and renewing contracts, payments and more.
Offer high-quality, affordable services to digitalize medical certificates and medical check-up forms by utilizing clients' own systems.
BPO Services for Documentation
Provide effective documentation services in a secure environment
Provide comprehensive documentation services at one-stop. The services include printing, delivering, digitalizing and more.
Help clients digitalize and store all documents that are required to comply with laws and regulations and to launch new services in a secure environment.
Selling, SCM, Finance and Documentation
|
|
|
|
|