MA Tool b→dash
b→dash offers a wide range of services essential for marketing. Specifically designed for data marketing, b→dash is an all-in-one product with diverse features such as CDP, MA, CRM, web-based customer service, BI, CMS (form), recommend, ad link, and more. Equipped with a feature to connect to Shopify, LINE and other platforms, b→dash helps you execute optimal marketing initiatives at each phase of the customer journey in your e-commerce business.
b→dash Details
b→dash, a no-code, all-in-one data marketing cloud system.
b→dash is a no-code SaaS data marketing solution with which you can capture and utilize all kinds of business data involved in marketing processes such as user data, ads data, and purchase data.
The most notable feature is its new technology that enables users to integrate and process data in GUI, no-code required. Its intuitive GUI makes marketers and all non-engineers readily handle data without any programming skill.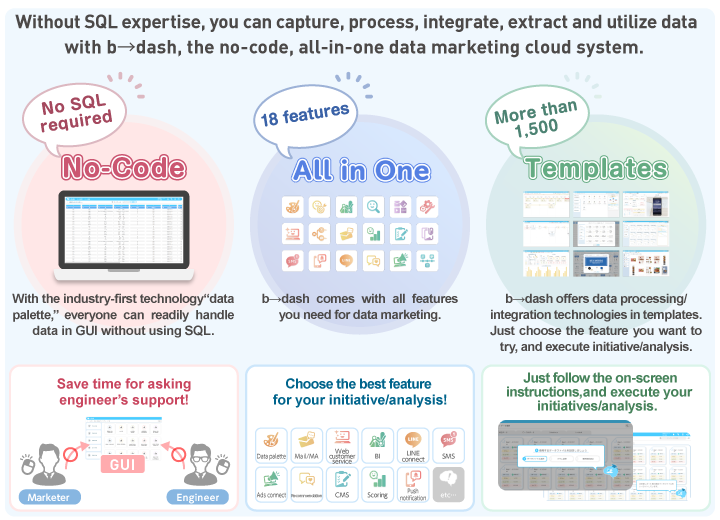 Pursuing for an easy-to-use, easy-to-understand and sophisticated user interface under the concept of "a product that anyone can use," b→dash is a no-code, all-in-one data marketing tool that enables you to "import, process, integrate, extract, and utilize data," without any SQL expertise.
b→dash Benefits
Expand sales, increase LTV, and boost repeat rate, no-code required.
Equipped with the industry-first technology "data palette," the no-code product b→dash enables everyone to easily handle data in GUI without using SQL. The all-in-one product comes with all 18 features you need for data marketing. Turning data processing & integration technologies into over 1,500 templates, b→dash helps you carry out data marketing just by choosing the feature you wish to try out.