Cross-Border E-Commerce
Cross-border e-commerce market value was 1.3 trillion yen in FY 2017; in 2021, it is expected to be doubled to over 2.85 trillion yen (from "FY 2017 Market Research pertaining to Electronic Commerce Business" by Ministry of Economy, Trade and Industry). In addition, due to the popularity of internet and improvement of logistics infrastructure in ASEAN countries as China Plus One, the ASEAN market is expected to grow rapidly.
transcosmos's Cross-Border E-Commerce Channels for Japan, China, and ASEAN Markets
transcosmos provides cross -border e-commerce websites for Japan, China, and the ASEAN market and sells high-quality products to local consumers


Unique sales approach, leveraging local subsidiaries' expertise in business practices in respective market
Understanding the local market, transcosmos sources products that meet local needs and executes effective branding & marketing initiatives to expand sales.
Pipeline with prominent local sales channels
Leveraging prominent local cross-border e-commerce sales channels as well as its own, transcosmos maximizes sales volume for its clients.
International logistics, leveraging E-Commerce One-Stop Center
transcosmos's E-Commerce One-Stop Center realizes the optimum international logistics for consumers around the globe, capitalizing on its expertise in international logistics including customs, laws and regulations, delivery scheme, etc.
Cross-border e-commerce business operations
Provides end-to-end services from e-commerce website development and operation, order management, customer support to international logistics, capitalizing on its know-how on international e-commerce business operations.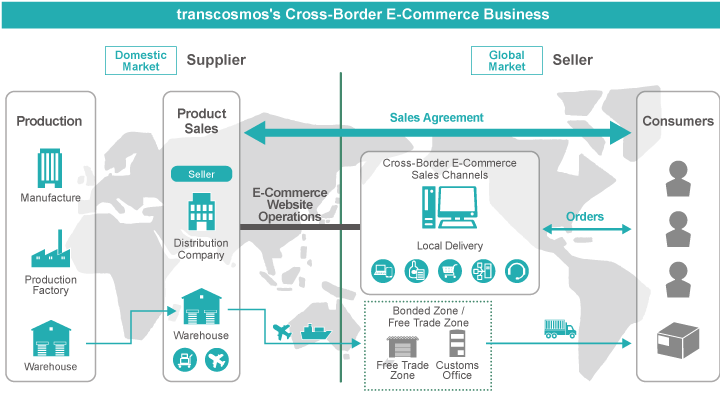 About cross-border e-commerce
Cross-border e-commerce that enables sell own products online to overseas has been gaining momentum every year. According to the popularity of reliable genuine products and Japan products, as well as the convenience of purchasing products not available overseas, there is high demand for cross-border e-commerce.
In order to develop the effective cross-border e-commerce business, there are some important strategies such as identifying the consumer needs and market, as well as selecting the type of product and target country based on the local characteristics.
transcosmos supports our clients to expand their overseas sales channels with our local partners in each country. The clients able to sell their products to the target markets globally through our cross-border e-commerce platforms, such as "Saketora" & "Geek Jack" for Japan and overseas, "Lazada" & "Lelong.my" for ASEAN, and "Tmall Global" for China.