Boost Customer Experience! Reverse Logistics Service REVERSELOGI
transcosmos one-stop service REVERSELOGI manages an increasing number of product returns for items purchased online. REVERSELOGI not only helps businesses streamline operations but also enables them to provide customer experience that increases usability, create fans, and ultimately expand sales. In addition, our contact center network, one of the largest in Japan, assists our clients in managing incoming customer inquiries. What's more, we design best operational processes for each individual client with services that solve specific challenges our clients face including customer returns inspection, replacement shipment, and more.
REVERSELOGI Details
REVERSELOGI helps you streamline operations and boost customer experience, the two crucial factors to grow your e-commerce business.
transcosmos contact center network, one of the largest in Japan with a diverse proven record, handles all customer inquiries regardless of complexity. Our E-Commerce One-Stop Center Kita-Kashiwa carries out all processes from accepting customer returns, visual inspection, to sorting and reporting, with high operational quality. In addition, we design and offer services that help businesses solve challenges they face including shipping replacements and managing returns according to returns policies of each online shopping mall.
Return Flow 1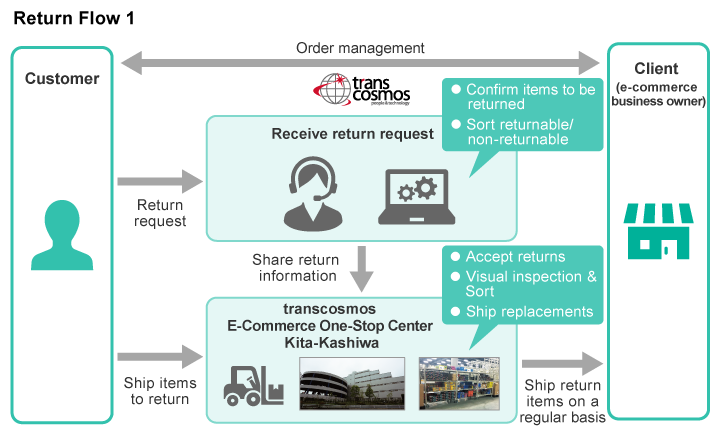 Return Flow 2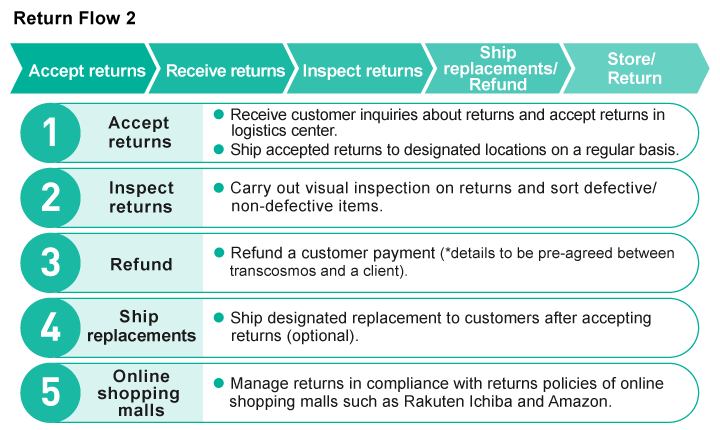 REVERSELOGI Distinctive Features & Strengths
REVERSELOGI goes beyond fixed operational services, it evolves as your challenges change.
transcosmos goes beyond just handling end-to-end customer returns operations for e-commerce business owners at one-stop. In this rapidly changing world, your challenges will change day-to-day. REVERSELOGI constantly evolves its operational design to best meet the changing challenges, always focusing on solving the current ones. By doing so, REVERSELOGI continuously increase usability and operational efficiency.
REVERSELOGI Benefits
Streamline end-to-end customer return processes for online shopping businesses, and grow sales by enhancing customer experience.
Streamlined customer returns enables you to secure resources for other operations.
We constantly design operational processes that solve your current challenges and increase usability that will result in greater customer experience. Ultimately, REVERSELOGI helps you grow sales.