Services for the North American Market
transcosmos America offers a diverse range of services to help your e-commerce business. On top of developing your websites, and managing and operating product listing on Amazon and other local e-commerce marketplaces, we also conduct market research, ensure legal compliance, carry out digital marketing, run social media marketing, deliver customer support, and more.
If you don't have a business location in the U.S, we help you enter the North American market as your sales agent via the consignment inventory model.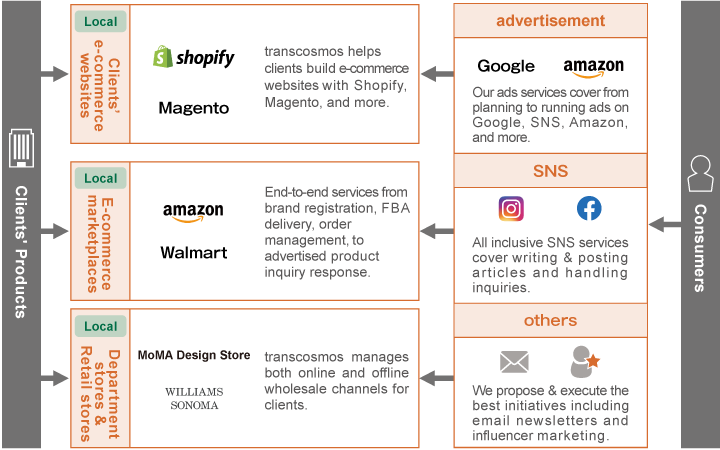 関連提供サービス

Major Achievements in Europe and the United States
Providing services to client companies including leading brands of the Fortune 500 and Global 1,000 in the U.S. and Europe. Also boasting a large number of accomplishments focusing on areas such as apparel, health and beauty, consumer goods, food and everyday sundries.

Case Study


VAIO
Provides Comprehensive Support for VAIO® Brand PC to Enter the U.S. Market
transcosmos can support a clients' cross-border e-commerce sales to the U.S. market by providing e-commerce operations services such as wholesale sales, website construction & operation, import procedures, data entry & other registration tasks, payment, product repairs, customer support, fulfillment, shipping, and more.







transcosmos Group's E-Commerce Outsourcing Companies
One of the Best E-Commerce One-Stop Services Companies in Europe and the United States

A NASDAQ-listed company offering e-commerce one-stop services in the United States. In addition to offering fulfillment and customer support services at their own warehouse, PFSweb delivers a wide range of services that include payment processing, e-commerce system development and sales promotions.
A European e-commerce system solutions company