Logistics Services
Building on our proprietary developed & customized order and logistics management systems, transcosmos offers e-commerce fulfillment services that work for all business types across diverse industries.
On top of offering logistics operations services until your products reach consumers (receipt of goods, storage, packing and shipping) and value-added services such as distribution processing according to your brand requirements (gift wrapping, enclosing greeting cards, etc.), we also help you open your stores on e-commerce platforms as a way to expand sales channels.
Logistics Services Details
"Your E-Commerce Business Growth" = "Our Fulfillment Services Growth."
General 3PL (third party logistics) providers only offer services from receiving customer products to delivering the products to end-users. Yet, transcosmos fulfillment services go beyond that. We help you grow your e-commerce business.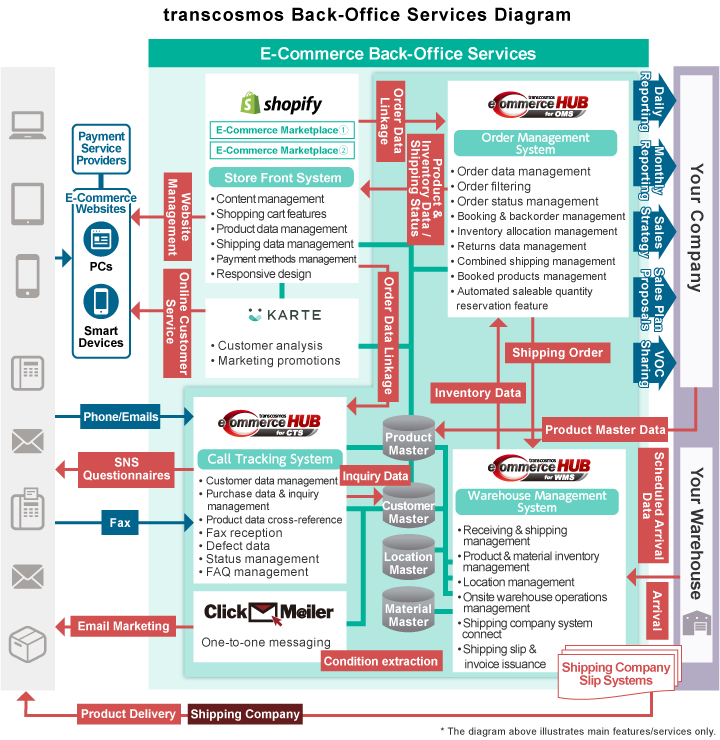 Logistics Services Distinctive Features & Strengths
Our "multi-functional," "rational" proposal, which includes all-related functions on top of stand-alone "logistics" services, helps you optimize costs.
Given that various operational areas & functions, which require respective expertise, are closely connected in e-commerce business, it is critical that all functions work in tandem in terms of both operations and systems. Taking a "multi-functional" and "rational" approach, we help you solve challenges, reduce man-hours, and realize faster delivery that cannot be achieved by a single function such as "store operations," "marketing," "website development," "back-office operations," "contact center operations," and "logistics."
Logistic Services Benefits
We deliver the best quality operations completely committed to customer experience that can only be achieved with our fine-tuned, flexible warehousing, designed specifically for e-commerce logistics.
1. Proposal Capabilities
In the fast-growing e-commerce market, end-user expectations from logistics services continue to change everyday.
Our logistics services are specifically designed for e-commerce. That's why we can propose logistics services that end-users want today based on our real-life case studies.
2. Security


Our security measures for both tangible and intangible assets include ISO27001 certification and information security initiatives. We offer a secure environment so that you can entrust your operations to us.

3. Quality


Our quality management department and operations process management systems ensure high operational quality and accurate shipping.