E-Commerce Consulting Services
transcosmos e-commerce consulting services visualize the entire e-commerce business operations from a bird's eye view. We identify your business growth challenges, and develop & carry out plans for you to overcome the challenges and grow.
Specifically, we offer a range of services that help you resolve specific challenges you face; services include online ad operations, SEM, CRM, marketing automation implementation & operations, website development, UI/UX improvement, PMO, and more.
E-Commerce Consulting Services Details
As the best business partner, we help you grow your e-commerce business.
E-commerce-related projects: 200+/year (2019 actual)
E-commerce-related systems & tools: Over 120
Our unique consulting framework visualizes & optimizes problem solving processes.
We have over 20 senior consultants who know a range of industries & operations inside out.
Our services range from a simple consultation on a single operation process to a full suite consulting service covering the whole business.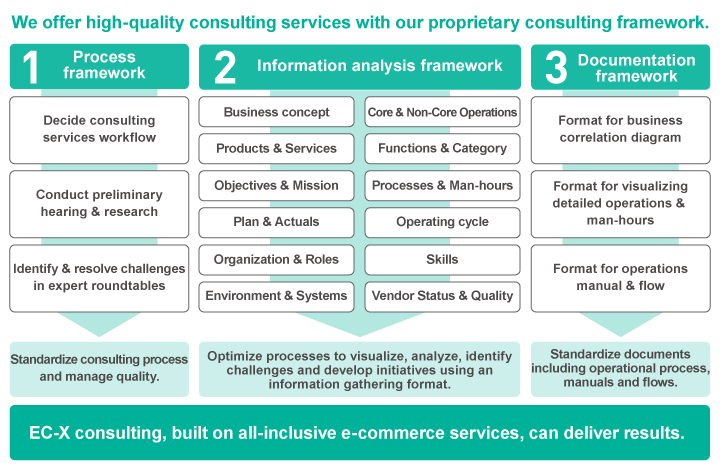 E-Commerce Consulting Services Distinctive Features & Strengths
We help you develop an integrated product & brand.
Fully committed to taking the user perspective of the times reflecting current social trends and user lifestyles, we seamlessly provide end-to-end services from designing brand concept and story, launching the brand, developing merchandising strategy, building & managing sales framework, to developing sales & marketing initiatives. Ultimately, our all-inclusive services help you succeed in your e-commerce business.
E-Commerce Consulting Services Benefits
Success stories - our solutions for our e-commerce service customers.
Visualized operations processes, identified ideal model, and proposed initiatives to achieve the ideal status.
Developed & organized operational specification and manuals, and presented a plan for stabilizing operational quality and reducing man-hours.
Within a limited consulting service period, engaged in vendor and system selection processes.