AI-Powered Personalization Platform Dynamic Yield
Dynamic Yield is an AI-powered personalization platform. The platform shows tailored content based on user preference, and optimizes customer experience at every customer touchpoint: web, mobile, app, email, and ads. Dynamic Yield helps you with omnichannel personalization, recommendations, targeting, auto-optimization, and more. Hundreds of global brands across industries/regions are already using the platform and delivering the best customer experiences to more than hundreds and millions of users a month.
Dynamic Yield Details
An AI-powered platform that delivers the optimum customer experience to everyone.
Dynamic Yield helps you deliver omnichannel personalization, recommendations, targeting, auto-optimization, and more.
Above all, the two AI-driven features - personalization and recommendation – are highly distinctive to Dynamic Yield. Driven by AI, the personalization feature dynamically restructures any page layout and element based on user segment, and the recommendation feature executes relevant product recommendation strategies in real-time. Ultimately, the two features play significant roles in boosting your customer satisfaction and expanding revenues.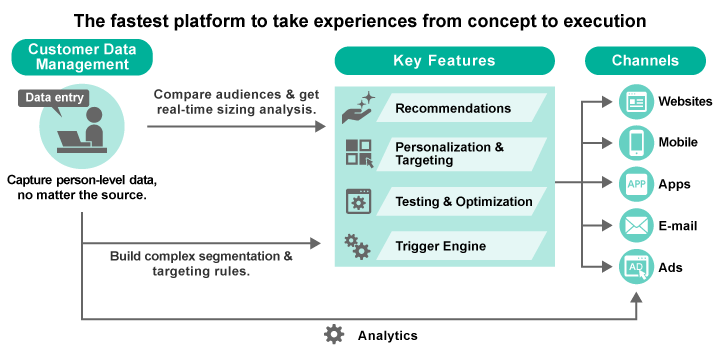 Dynamic Yield Distinctive Features & Strengths
Personalization delivered by the industry leading AI.
Dynamic Yield transforms omnichannel user experience in real-time using the industry's best machine learning and predictive algorithms. According to user affinities, context, and user segment, Dynamic Yield creates a data-driven user experience.
What's more, as Dynamic Yield continues to empower hundreds of global companies across industries/regions, the platform can use AI that keeps evolving for personalization.
Dynamic Yield Benefits
Upgrade holistic customer experience and expand e-commerce channels.
Dynamic Yield changes content elements and tailors it to each user channel such as web, mobile, app, email and ads, thereby upgrading user experience from diverse perspectives. Ultimately, you can increase your KPIs including e-commerce sales volume, page views, and ROI. Today, to prevent COVID-19 infections, demands for e-commerce shopping are growing in Japan as in other countries. Against this backdrop, Dynamic Yield will help you expand your e-commerce sales channels.