YOTPO, Reviews and Instagram Photo Solutions
Yotpo helps you make the most of compelling UGC that gives the final push to make users purchase products & services, thereby achieving your diverse e-commerce objectives such as boosting SEO rankings, increasing CVR, reducing CPC, and more.
You can complete all UGC-related processes with Yotpo from collecting, displaying, marketing with, measuring performance of UGC, as well as securing user permission to use UGC.
A deep integration with Shopify makes it easy to install and gives you access to some of Yotpo's features from Shopify, so you can immediately expand your e-commerce sales.
YOTPO Details
Yotpo helps you expand your e-commerce sales with effective UGC marketing strategies.
5 things you can do with Shopify and Yotpo integration
1. Yotpo pulls orders to trigger automated post purchase review requests to help you collect as many reviews as possible.
2. Place an Add to Cart button on your on-site UGC galleries to enable customers to shop right on the spot without moving to product details page.
3. Have your reviews load faster, stop site abandonment, meaning no more missed opportunities.
4. Just update your product information on Shopify, then Yotpo product catalogue will automatically display the latest information.
5. Carry out effective SMS marketing campaigns on Shopify and drive customer lifetime value.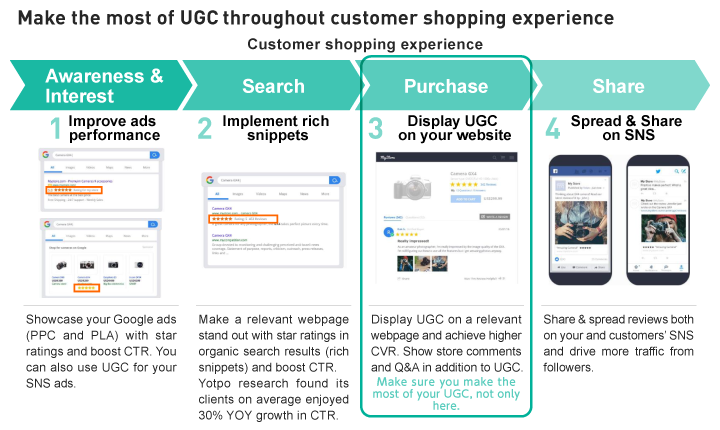 YOTPO Distinctive Features & Strengths
Make the most of Google paid search and organic search results.
Yotpo sends out automatic review request emails using customer e-mail addresses and purchase data to let them complete their reviews directly within the e-mail without visiting websites, thereby achieving high review collection rates.
YOTPO Benefits
Achieve high review collection rates with Yotpo review features, no login & site visit required.
Stand out on search by showcasing product star ratings in your Google Shopping ads, text-based Product Listing ads and organic search results. The star ratings boost your ads discovery, UGC builds buyer confidence, and ultimately increases Google ads CTR. The higher your CTR, the higher rankings on Google, thereby reducing your cost per acquisition. What's more, collecting high-quality, compelling reviews for users will benefit SEO.