Warehousing Service Designed for Shopify SPEEDLOGI
SPEEDLOGI, our warehousing & logistics service designed for Shopify, enables businesses to manage end-to-end logistics operations from receiving orders to shipping with just basic operational steps on a Shopify admin page. No knowledge to use new apps is required. With a cosmetics manufacturing license in place, transcosmos treats each of our clients' products with respect, and offers logistics services from our ISO27001 certified warehouse, thoroughly protecting all personal information. transcosmos SPEEDLOGI saves our clients' man-hours needed for warehousing-related operations by as much as 86%, making many clients happy.
(*Source: transcosmos own research for 2,000 shipments/month.)
SPEEDLOGI Distinctive Features & Strengths
SPEEDLOGI, transcosmos warehousing & logistics service designed for Shopify, assists you with the entire order fulfillment process.
Best for startups. Available from just one shipment.
You can use the service within three working days after completing the service application process entirely online.
Our experts in home shopping logistics and e-commerce will guide you through your e-commerce business launch process.
The service is available from warehousing one pallet, and one delivery. Highly recommended for one-person entrepreneurs and other startup businesses!
No system charge, warehousing fee, initial costs. A simple fee structure charges only storage and delivery fees.
All completed on a Shopify admin page, no dedicated staff for app & warehousing operations, no redundant personnel expenses required.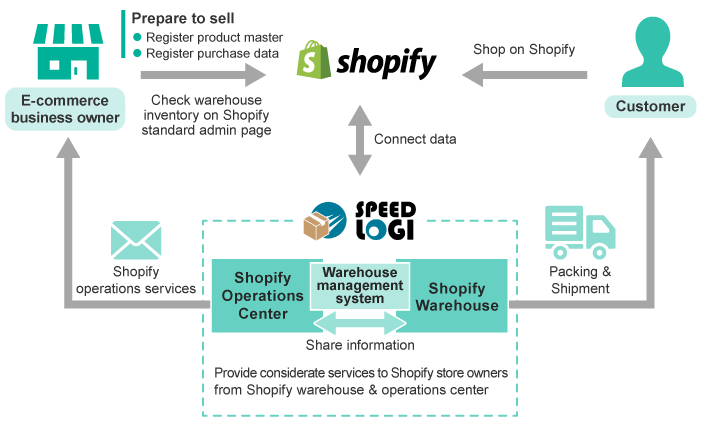 SPEEDLOGI Benefits
Save time for fulfillment service, focus on growing sales.
With SPEEDLOGI, you can store, receive, ship, and return your products on one Shopify admin page. No need to learn about new apps and new warehousing system admin screens. SPEEDLOGI comes with not only a warehouse designed for Shopify, but also with various optional services including contact centers, all served by the same company, transcosmos. SPEEDLOGI is a highly scalable fulfillment service that only transcosmos can offer. On top of SPEEDLOGI, we offer a variety of optional services as your e-commerce business scales. With a wide selection of choices, SPEEDLOGI significantly contributes to Shopify store owners in growing their e-commerce sales.